Last May, while on a road trip along the West Coast of the United States (Route 66 and more), one thing that struck me and has stayed with me was the drought situation in California. Water was getting rationed, Californians were being advised on shorter showers, and there was a sense of foreboding in the air, as unprecedented dry weather hit the state.
If California was struggling with water issues, back home in Karnataka, we also had to grapple with long power cuts as the low monsoon forced the electric supply companies to ration electricity. For a city that is working 24X7, this was bad news and the cost to businesses and households were significant.
As the new year begins, we are all excited at the prospects and possibilities of the coming 366 days (yes, it is a leap year). Yet we are constantly reminded of the challenges our world is facing – as populations grow and consumption increases, the pressures on our resources rise. We face a future where these resources will get more and more sparse with time, with resulting complications that have geopolitical as well as domestic impacts.
Last year, I also came across two simple innovations that I think can help us reduce domestic consumption and waste of both water and electricity. Both the ideas are simple redesigns of existing set-ups but can really help us manage our resources and bills better.
A Toilet-Cum-Hand-Basin
The first comes from Australia, a land known for its dry weather and bushfires. It is a simple all-in-one toilet-cum-hand basin which has been around for some time and comes with 10 years of testing. The name of this type of toilets is called: Profile 5 Toilet Suite Deluxe with Integrated Hand Basin.
The all in one hand basin that sits on top of the toilet cistern is a bit like a lid and secures itself to the toilet cistern and requires no additional fitting. The cistern underneath the wash hand basin is filled via the tap you use to wash your hand and is ideal in cloakroom areas. The waste from the hand basin goes directly into the toilet cistern and fills the cistern until it requires flushing again saving water. The tap is based on cold water only and has a soft closing toilet seat to go with it.
Caroma, a company marketing this product has a great video on it:
 Users say that overall this type of toilet saves about 70% of water in comparisons to the average everyday toilet use.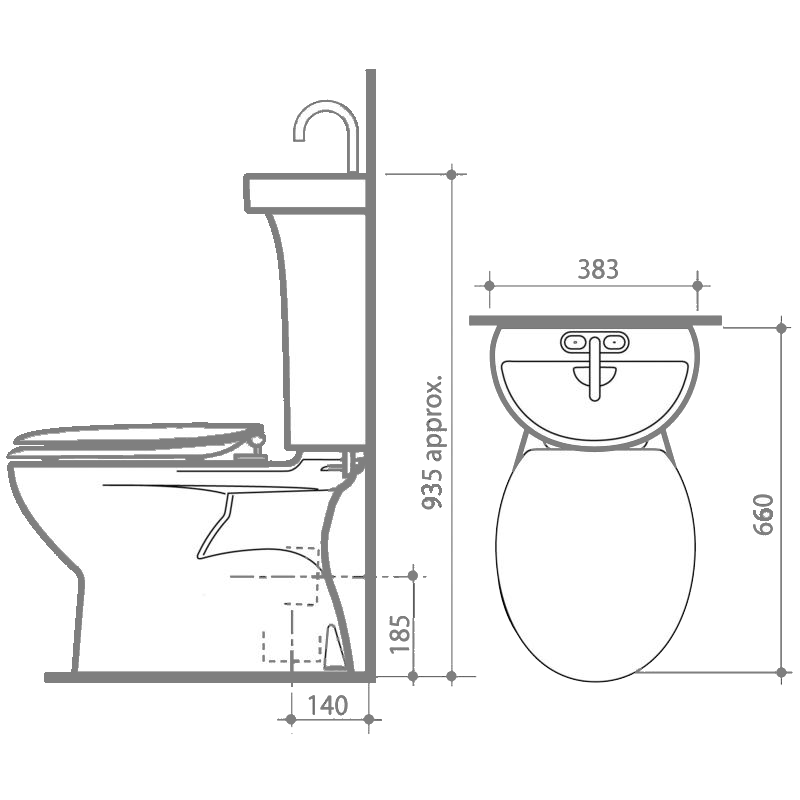 The cost is between £400 to £700 depending on which supplier one is buying from. However, they are hard to find due to low demand and low publicity. In some areas they may be on sale and then discontinued but the best bet at the time is to have a look around the internet.
A Pedal-Powered Washing Machine
So often, in the middle of a wash cycle, we in Bangalore are hit by power cuts which disrupt the wash. Add to that the large size of conventional washing machines make them take up too much space. Many people around the world rely on hand washing their undergarments and personal items. Many millions do not have access to private laundry facilities. Because of this, many pressing issues are encountered at the public laundromats in the west, such as a lack of hygiene, time consumption, lack of mobility, energy costs, and damaged or lost clothing. 
For people who don't have the space for a washer and dryer, or for those who lack access to private laundry facilities or suffer from fluctuating electricity supply, one tiny machine is stepping up in a big way.
Meet the Drumi, a sustainable, miniature washing machine on the way from household design company Yirego, a Toronto-based company. Unlike the standard-size models, it never needs to be plugged in: Instead, it's human-powered.
The Drumi is foot-powered, and can clean about three days' worth of personal undergarments and shirts in about 5 minutes.
It uses approximately 2 gallons of water per load and only a little soap, which according to Yirego is 80% less water and detergent than what's required by regular washing machines.
With 40 percent of the Drumi made from recyclable materials, there isn't a washing machine quite like it on the market. Watch how it works:
This machine was designed for people who usually go to laundromats, and should come in handy for who live in a compact urban homes or can't afford a traditional washer and dryer. Though it isn't intended to entirely eliminate laundromat outings or the use of a regular washing machine, it can replace frequent trips and multiple loads and help reduce a user's carbon footprint.
Yirego retails Drumi for $169. The washer is also designed for campers, and though the company is only taking preorders in North America right now, they think there could also be a market in developing countries, and plan to launch a crowdfunding campaign later this year that will also be available internationally.